Rock-a-bye Baby…on the Sleeper Car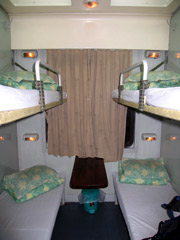 The soft sleeper night trains are the more luxurious way to travel in Vietnam besides for airplane. The trains have a lot of seating options; hard or soft seat, and hard or soft sleeper. Because we've been traveling with a lot of important things, we've been traveling on the more expensive option on the train, the soft sleeper. There are four beds in one room and plenty of space for a ll of our luggage. It's also pretty safe because there's a lock on the door and the other two passengers are usually other travelers or wealthy Vietnamese men. Like I said, it's a little more expensive for this ride. We took a soft sleeper car from Hanoi to Sapa for nine hours. The price was included in our tour, but it's supposed to be around $20 to $40 USD, one way. We also took a soft sleeper car from Ninh Binh to Hue for 12 hours for about $20 USD. The soft sleeper car is very comfortable. I slept like a baby being rocked to sleep. Thank goodness the operators knock on your door to wake you.
To get a more accurate quote on train prices, click here.